Celebrating Engineered, Shored and Excavated Projects Features: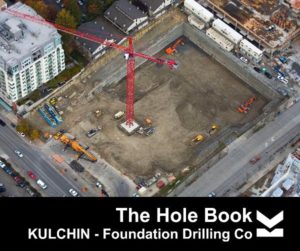 Hardcover, coffee table-style book is an aerial pictorial survey of more than 60 Northwest projects completed over the last ten years.
Pictures depict different urban locations, geologic conditions and corresponding shoring and underpinning techniques.
Info for each photo includes project name, location, general contractor, owner, shoring and geotechnical engineers.
$100 plus shipping.
Available from
Kulchin Foundation Drilling Co. 253-888-4284 or plans@kulchin.com or The ADSC Technical Library.
 As seen in:
ASCE's Geo-Institute's Geo-Strata
Seattle's Daily Journal of Commerce
ADSC's Foundation Drilling Magazine.